KHUKER CUP DRAFT RESULTS 2019 - 2020
SENIORS CANADA CUP 2020
First Round to be played by 9th February 2020
HCGC Seniors Open Tuesday 7th July 2020.
Please look under HCGC Opens for the entry form
Seniors Trophies
Monday 21st October 2019
A happy time was had by the 46 players that played the Shotgun Greensomes today - although there was, as is common with the Seniors, some confusion over the format and the tees. After the AGM the Club Captain, John Bentley, kindly presented the trophies to the winners of the various competitions.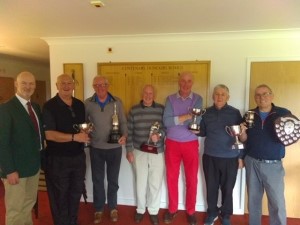 Why play in Seniors Matches?